Posts for: November, 2018
By Reed Family Dental
November 20, 2018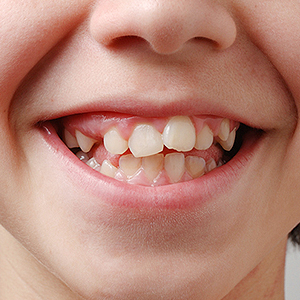 Although tooth decay is a major problem to watch for in your child's teeth, it isn't the only one. As their teeth transition from primary ("baby") to permanent, you should also be on the lookout for a developing poor bite or malocclusion.
Although the signs can be subtle, you may be able to detect an emerging malocclusion, starting usually around age 6, if you know what to look for. Here are 4 signs your child may be developing a poor bite.
Excessive spacing. This is something that might be noticeable while the child still has their primary teeth. If you notice an excessive amount of space around the front teeth, the sizes of the jaws and the teeth may be disproportional.
Abnormal overlapping. The upper teeth normally just cover the bottom teeth when the jaws are closed. But a malocclusion may be forming if the lower teeth cover the upper (underbite), the upper teeth extend too far over the lower (deep bite) or there's space between the upper and lower front teeth (open bite).
Different overlapping patterns. Watch as well for some of the teeth overlapping normally while others don't, a sign of a cross bite. For example, the back upper teeth may cover their counterparts in a normal fashion while the lower front teeth abnormally overlap the top front. The roles here between front and back teeth can also be reversed.
Abnormal eruptions. Permanent teeth normally follow a pattern when erupting, but certain factors could disrupt the process. For example, a jaw that's developed too small can cause crowding as incoming teeth vie for space; as a result, some permanent teeth may erupt out of their proper position. Likewise, if a baby tooth is out of its normal position or prematurely lost, the permanent tooth may erupt out of position too.
The good news with each of these developing bite problems is that we can correct them or at least minimize their future effect if caught early. So if you notice any of these signs or anything else out of the ordinary, see an orthodontist as soon as possible. It's also a good idea to have your child undergo a thorough orthodontic evaluation around age 6.
If you would like more information on bite problems in children, please contact us or schedule an appointment for a consultation. You can also learn more about this topic by reading the Dear Doctor magazine article "Problems to watch for in Children Ages 6 to 8."
By Reed Family Dental
November 10, 2018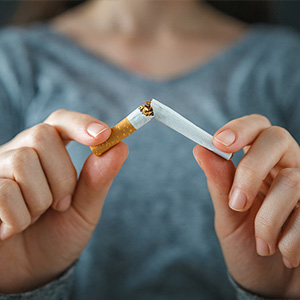 What does November make you think of? Pumpkins? Turkeys? Dry leaves and frosty mornings? How about cigarette butts?
If you're wondering about the last item, remember that November 15 is the date of the Great American Smokeout—a day set aside for those who want to take the first steps toward quitting the tobacco habit. While the percentage of smokers in the U.S. has dropped to less than 16% in recent years, according to the American Cancer Society there are still some 38 million Americans who smoke cigarettes. Smoking causes over 480,000 deaths every year, and is the leading preventable cause of death in the U.S.
Even if it doesn't kill you, the effects of tobacco use can be devastating to your entire body—including your mouth. Whether you smoke cigarettes or use chewing tobacco, your risk of oral cancer is greatly increased, as is your chance of developing periodontal (gum) disease. What's more, smoking can mask the symptoms of gum disease, so your condition is actually worse than it appears. Severe gum disease is one reason why smokers tend to lose more teeth than non-smokers.
In addition, because smoking interferes with the natural healing process, smokers have a much greater chance of dental implant failure. Tobacco use also can lead to increased amounts of plaque, which results in tooth decay and other oral health problems. It also stains your teeth, reduces your senses of smell and taste, and gives you bad breath.
Ready to quit yet? If so, there are lots of resources to help you on the road to a healthier life. The American Cancer Society, sponsor of the Smokeout, can help you make a plan to quit tobacco—and stay off it. It's not easy, but over a million Americans do it every year. See their website for more information, plans and tips on quitting. Your health care professionals are also a great source of information and help when it's time to get off the tobacco habit. Feel free to ask us any questions you may have.
And here's the good news: The moment you quit, your body begins to recover from the effects of tobacco use. In just one year, you'll have cut your risk of heart attack and stroke in half. After 5 to 15 years, your risk of stroke, coronary heart disease, and several other conditions is the same as someone who has never smoked.
If you have questions about smoking and oral health, please contact our office or schedule a consultation. To learn more, read the Dear Doctor magazine articles "Smoking and Gum Disease" and "Dental Implants and Smoking."