Posts for tag: pediatric dentistry
By Reed Family Dental
October 01, 2018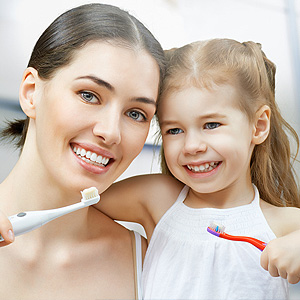 A child's formative years have an immense impact on their physical, mental and emotional well-being. As a parent you want them to have every advantage possible.
That should include a healthy mouth — actions you take now could determine the long-term soundness of their teeth and gums. Here are 5 things you can do to ensure your child's present and future oral health.
Begin oral hygiene habits early. By early, we mean even before their first teeth appear. Wipe their gums after every feeding with a water-soaked cloth or gauze pad; when teeth appear switch to brushing with just a smear of toothpaste on the end of the brush.
Start dental visits around their first birthday. Early dental visits increase the chances of detecting and treating developing problems before they become worse. And starting may also help your child become comfortable with visiting the dentist — waiting until later increases the chances of anxiety and an aversion to dental visits that might carry over into adulthood.
Adopt dental-friendly home and lifestyle habits.  Don't allow your child to sleep with a pacifier or bottle filled with sugary fluids, including breast milk or formula: fill them with water instead. Limit their sugar consumption to small amounts and only at meal times. And be sure to "childproof" your home against hazards, especially sharp-edged furniture that could damage teeth if they make hard contact with it.
Teach them to care for their own teeth. Although you'll need to brush their teeth for them in the beginning, be sure you eventually teach them to perform this vital habit for themselves. To ease the transition try modeling the behavior or make it into an activity you can do together.
Partner with your family dentist. Your dental office can do more than prevent or treat dental disease — they're an important resource in helping you manage your child's dental needs at home. They can coach you on brushing and flossing techniques, and provide information to set your mind at ease about concerns like teething or thumb sucking.
If you would like more information on complete oral care for your child, please contact us or schedule an appointment for a consultation. You can also learn more about this topic by reading the Dear Doctor magazine articles "Dentistry & Oral Health for Children" and "Top 10 Oral Health Tips for Children."
By Reed Family Dental
October 07, 2017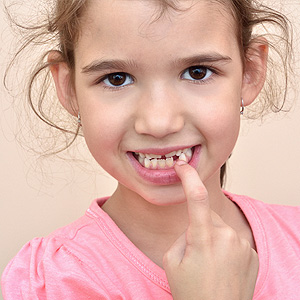 Watching your newborn develop into a toddler, then an elementary schooler, a teenager, and finally an adult is one of the most exciting and rewarding experiences there is. Throughout the years, you'll note the passing of many physical milestones — including changes that involve the coming and going of primary and permanent teeth. Here are some answers to frequently asked questions about children's dental development.
When will I see my baby's first tooth come in?
The two lower front teeth usually erupt (emerge from the gums) together, between the ages of 6 and 10 months. But your baby's teeth may come earlier or later. Some babies are even born with teeth! You will know the first tooth is about to come in if you see signs of teething, such as irritability and a lot of drooling. The last of the 20 baby teeth to come in are the 2-year molars, so named for the age at which they erupt.
When do kids start to lose their baby teeth?
Baby teeth are generally lost in the same order in which they appeared, starting with the lower front teeth around age 6. Children will continue to lose their primary teeth until around age 12.
What makes baby teeth fall out?
Pressure from the emerging permanent tooth below the gum will cause the roots of the baby tooth to break down or "resorb" little by little. As more of the root structure disappears, the primary tooth loses its anchorage in the jawbone and falls out.
When will I know if my child needs braces?
Bite problems (malocclusions) usually become apparent when a child has a mixture of primary and permanent teeth, around age 6-8. Certain malocclusions are easier to treat while a child's jaw is still growing, before puberty is reached. Using appliances designed for this purpose, orthodontists can actually influence the growth and development of a child's jaw — to make more room for crowded teeth, for example. We can discuss interceptive orthodontics more fully with you at your child's next appointment.
When do wisdom teeth come in and why do they cause problems?
Wisdom teeth (also called third molars) usually come in between the ages of 17 and 25. By that time, there may not be enough room in the jaw to accommodate them — or they may be positioned to come in at an angle instead of vertically. Either of these situations can cause them to push against the roots of a neighboring tooth and become trapped beneath the gum, which is known as impaction. An impacted wisdom tooth may lead to an infection or damage to adjacent healthy teeth. That it is why it is important for developing wisdom teeth to be monitored regularly at the dental office.
If you have additional questions about your child's dental development, please contact us or schedule a consultation. You can also learn more by reading the Dear Doctor magazine articles "Losing a Baby Tooth" and "The Importance of Baby Teeth."
By Reed Family Dental
June 01, 2017
A child with a chronic illness or condition often requires a lot of focus on care for their special needs. Other aspects of their health can often take a back seat — too often including dental care.
Proper dental care can be a challenge for special needs children if they have diminished physical, intellectual or behavioral capacities. Children with autism or attention deficit disorders may not be able or willing to perform tasks like brushing and flossing. Other conditions could make them intolerant to toothpaste in the mouth, or create an inability to keep their mouths open or to spit.
Some chronic conditions also seem predisposed to dental defects. For example, enamel hypoplasia, a lack of sufficient tooth enamel, is common with Down, Treacher-Collins or Turner Syndromes, and can greatly increase the risk of tooth decay.
But even though difficult, effective dental care isn't impossible. It begins with your dental provider.
Pediatric dentists are often excellent in this regard: they often have the training and experience to treat children with chronic conditions. Whoever you choose must be able to partner with you in caring for your child's dental needs.
Daily hygiene is also a critical factor. Your goal should be the same as with any child — to teach them to brush and floss for themselves. Depending on their condition, however, you may need to assist them for a longer term, perhaps permanently. But it is imperative — daily hygiene is their best defense against oral diseases.
You should also consider their medication and how it may impact their dental health. Antidepressants, antihistamines or drugs that assist with breathing function can cause mouth dryness. This, as well as drugs with sugar or acid compounds, can increase risk for dental disease. If they must take these types of medications, try to give them at mealtime to reduce their effect in the mouth.
Above all, pursue the same professional dental care as you would for any other child. Keep up regular dental visits beginning around their first birthday for cleanings and preventive measures like topical fluoride or sealants. By taking these measures you'll help ensure their dental health won't suffer.
If you would like more information on dental care for special needs children, please contact us or schedule an appointment for a consultation. You can also learn more about this topic by reading the Dear Doctor magazine article "Managing Tooth Decay in Children with Chronic Diseases."