Posts for: February, 2020
By Reed Family Dental
February 13, 2020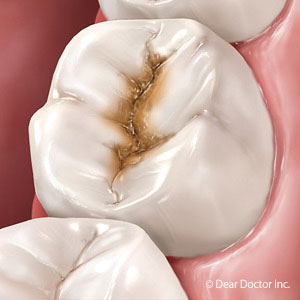 Tooth decay doesn't occur out of thin air, but is the end result of bacteria feeding on sugar, multiplying and producing acid. High acidity erodes tooth enamel and creates an environment for cavity development.
Modern dentistry can effectively treat cavities and often save the tooth from further damage. But you don't have to wait: You can reduce your chances of cavities by managing risk factors that contribute to decay.
Here are 4 top risk factors for tooth decay and what you can do about them.
Poor saliva flow. Saliva neutralizes acid and helps restore minerals to enamel after acid contact. But your enamel may not have full protection against acid if you have diminished saliva flow, often due to certain medications. You can help increase your saliva by consulting with your doctor about drug alternatives, drinking more water or using a saliva boosting product. Smoking can also inhibit saliva, so consider quitting if you smoke.
Eating habits. High sugar content in your diet can increase bacterial growth and acid production. Reducing your overall sugar consumption, therefore, can reduce your risk of decay. Continuous snacking can also increase your decay risk, preventing saliva from bringing your mouth back to its normal neutral pH. Instead, limit your snack periods to just a few times a day, or reserve all your eating for mealtimes.
Dental plaque. Daily eating creates a filmy buildup on the teeth called dental plaque. If not removed, plaque can then harden into a calcified form called calculus, an ideal haven for bacteria. You can help curtail this accumulation by thoroughly brushing and flossing daily, followed by dental cleanings at least every six months. These combined hygiene practices can drastically reduce your cavity risk.
Your genetics. Researchers have identified up to 50 specific genes that can influence the risk for cavities. As a result, individuals with similar dietary and hygiene practices can have vastly different experiences with tooth decay. Besides continuing good lifestyle habits, the best way to manage a genetic disposition for dental disease is not to neglect ongoing professional dental care.
If you would like more information on managing your tooth decay risk factors, please contact us or schedule an appointment for a consultation. You can also learn more about this topic by reading the Dear Doctor magazine article "What Everyone Should Know About Tooth Decay."
By Reed Family Dental
February 03, 2020
Your child's current dental care sets the stage for good oral health later in life. It's essential, therefore, that you know how best to protect their teeth and gums. In recognition of February as National Children's Dental Health Month, here's a short true or false quiz to test your knowledge of proper dental care for your child.
Your child's dental hygiene begins when their first teeth appear.
False: The bacteria that cause dental disease can take up residence in an infant's mouth before their first teeth come in. To help curb this bacterial growth, wipe your baby's gums with a clean, wet cloth after nursing or bottle-feeding.


Kissing your newborn on the mouth could lead to tooth decay.
True. Any mouth-to-mouth contact with your infant could transfer oral bacteria from you to them. Their immune system isn't mature enough to handle these "new arrivals," which can increase their risk for tooth decay. Instead, kiss your child on the cheek or forehead or use other ways to show affection.


Primary (baby) teeth don't need the same care from disease as permanent teeth.
False: Although they have a limited lifespan, primary teeth play a huge role in a child's dental development by protecting the space intended for the incoming permanent teeth. If primary teeth are lost prematurely due to dental disease, it could lead to incoming teeth erupting out of position.


It's best to start your child's regular dental visits around their first birthday.
True: By age one, children already have a few teeth that need preventive or therapeutic care by a dentist. Starting early also gets them used to seeing the dentist and reduces their chances of developing dental visit anxiety.


Your infant or toddler sucking their thumb isn't a cause for concern.
True: Thumb-sucking is a nearly universal habit among infants that typically begins to fade around ages 3 or 4. If the habit continues, though, it could begin affecting their bite. It's recommended that you encourage your child to quit thumb-sucking around age 3.


The best time to consider your child's bite health is right before puberty.
False: Signs of an emerging bite problem can begin appearing even before a child starts school. It's a good idea, then, to have your child undergo an orthodontic evaluation around age 6. If the orthodontist finds a problem, it may be possible to intervene to correct or minimize it before it goes too far.
One last thing: Your child's dental care isn't entirely on your shoulders. We're here to partner with you, not only providing preventive and therapeutic treatment for your child, but also advising you on their day-to-day dental care and hygiene. Together, we'll help ensure your child's dental development stays on track.
If you would like more information about dental care for children, please contact us or schedule a consultation. To learn more, read the Dear Doctor magazine article "Dentistry & Oral Health for Children."